Meet the Team: Zoe Charnock
Zoe Charnock, Area Manager in Lancashire, joined the Pebbles family in August 2022 and as we fast approach her one-year anniversary, what better time to find out a bit more about Zoe in her own words.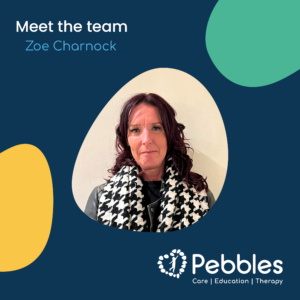 When I joined Pebbles Care last August, I approached it with a mix of anticipation and caution, due to my previous work experiences. However, since joining the company my
experience has been nothing but positive. I have been able to demonstrate my knowledge, skills and abilities which have been fully recognised and utilised effectively. Initially joining as a Cluster Manager, it didn't take long for me to be offered the Area Manager position for Lancashire. Not only do I feel incredibly well supported and listened to by the Senior Management Team, but also by the Home Managers and staff for whom I am responsible.
At Pebbles, the company offers some excellent benefits to staff, and management and staff are regularly recognised for their progression and professional achievements. This recognition of the importance of the individual role staff play within the company is not only reflected in the salaries offered but also in the array of benefits including Medicash, personal counselling services, occupational health, and much more. The company is genuinely passionate about the health and wellbeing of our staff and go the extra mile in ensuring their workforce is fully supported both professionally and personally when required.
On a broader scale, Pebbles is diligently working towards enhancing and advancing the therapeutic services offered to the young people in our care. There is a genuine passion
and dedication to achieving the best possible standards of care and support, thereby fostering positive outcomes for the children we care for.
In short, I can honestly say having worked in local authority for 20 years and alongside various private organisations, that my experience at Pebbles has possibly been the best that I have had so far in my professional career and is something that I value and fully appreciate. I work with some of the most fantastic colleagues with a wealth of knowledge and experience but also a passion and commitment to their roles and responsibilities in making a positive difference to the lives of children in care.
Despite already having 28 years' experience under my belt, I have continued to learn and grow since joining Pebbles. I feel fully supported to continue to learn, develop and progress along a path that I have strived towards for many years.
Find out more about the joining our Pebbles family here: